Assembly Organizing reflects 25 years of computer festival history – from being a rebel dream to becoming one of the largest computer festivals in Europe.
1992 – A rebel dream
The first party held in a school in Kauniainen was dreamed up by a couple of guys from demo group Rebels. It proved out to be a great, large event with over 700 visitors. The first main organizer (Meegosh) pulled this off together with demo groups like Rebels, Complex, and Future Crew.
A lot has happened since the first party, but the idea of Assembly is still the same – having like-minded people gather at one central place, making sure everything runs well, hosting great compos, and still enjoying themselves while working like crazy for over 70 hours straight. =)
Even back then the teams had different responsibilities such as organizing graphic compos or taking care of the cafeteria. For a number of years this tradition of organizing the event as a joint effort of different demo groups continued.
---
1995 – Assembly Organizing incorporated (Assembly Organizing Oy)
With the increasing success of the party the 1995 organizing team also grew rapidly and decided to specialize in organizing the demo party (as compared to creating the actual demos).
At the same time people without any demo group affiliation became an important part of the organizing team together with the veterans from the early years. As the team grew it needed an identity of its own and has since been known as "Assembly Organizing".
At the same time we also faced increasing financial stakes and thus we incorporated as a Finnish non-profit company known as "Assembly Organizing Oy". The company has since been providing a reliable foundation to our sponsors and contractors.
---
2018 – Telia acquired Assembly Organizing Oy
Telia Company became the majority shareholder of Assembly Organizing Oy. The ambition is to expand and further develop Telia's ambitions within esports and gaming.
---
2020 – Assembly HUB and Content production Assembly Studios
Under Telia's Ownership and during the COVID-19 pandemic, Assembly has expanded it's operations to Gaming and Esports Content production and online media.  In 2021 Assembly launched a new content hub and community on assembly.org and remains as leading Esports and gaming content producer in Finland with several leagues and series in Esports –  Telia Esports Series (CS:GO), eLiiga (NHL), eFutisliiga (FIFA), Telia Masters (LOL).
Additionally, Assembly Studios produce a variety of gaming-related YouTube and TV content series such as Kannetusta Kantajaksi, Kaksinpeli, Pin, puk, gg and Lyhyesti. You can find the channel here.
From Assembly's studio premises in Helsinki, Finland, various white-label productions for the leading gaming-related brands globally are created. In 2022 Assembly will provide the most comprehensive solution to interact with Finnish Gaming Audience – both online and offline.
---
Today
In 1995 the organizing team consisted of around 60-80 persons, while today Assembly Organizing consists of over 400 volunteers with considerably different backgrounds working throughout the year to make sure the Assembly events are as spectacular as you know them to be.
Assembly also became a symbol for bringing demoscene ideas to the public. This would not have been possible without the over 60 person-strong AssemblyTV team which has very strong competencies in film, audio, and video production as well as in acting and in journalism.
However, Assembly has not only been about the demo scene: the event has always been a place where digital culture and lifestyle would present itself. In addition to the demo events, there grew a multitude of facets that became a steady part of the party: music, geek sports, robot wars, and seminars. Especially gaming became an essential part of Assembly, eventually growing into a second event for gamers – Assembly Winter.
Back in the early '90s nobody dared to hope that the Assembly would become such a long-running success. The credit for the Assembly parties of today belongs to all of the over 400 organizers. They have always put their hearts and souls into organizing each Assembly to be remembered as a fantastic party. The organizers Abyss and Pehu are sincerely grateful for the support over all these great years of Assembly.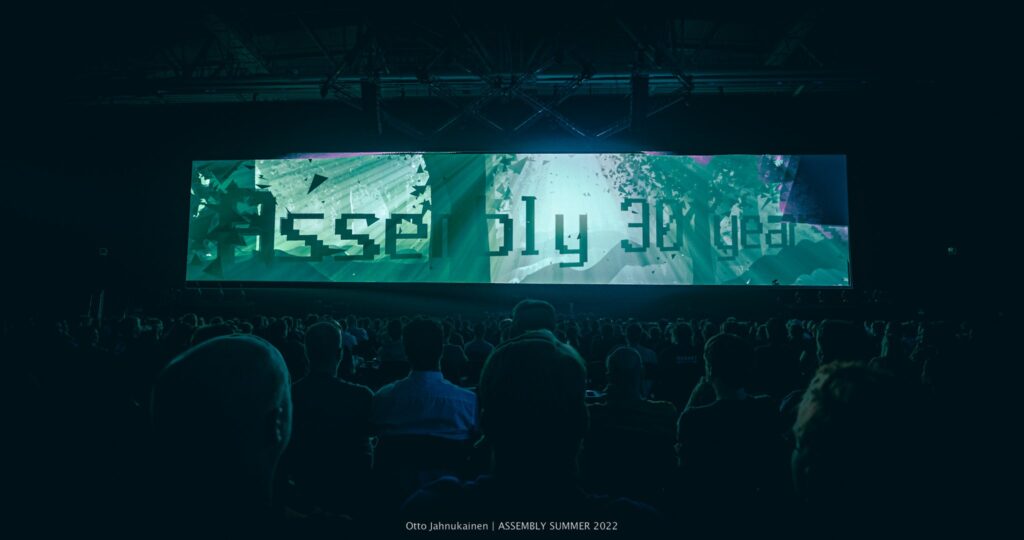 ---
Past (physical) events
ASSEMBLY Summer 22, Messukeskus, Helsinki
ASSEMBLY Winter 22, Messukeskus, Helsinki
ASSEMBLY CREATIVE TECH 21, Finnish National Opera and Ballet, Helsinki
ASSEMBLY Online 21, Online (COVID-19)
ASSEMBLY Winter 20, Messukeskus, Helsinki
ASSEMBLY Summer 19, Messukeskus, Helsinki
ASSEMBLY Winter 19, Messukeskus, Helsinki
ASSEMBLY Summer 18, Messukeskus, Helsinki
ASSEMBLY Winter 18, Messukeskus, Helsinki
ASSEMBLY Summer 17, Messukeskus, Helsinki
ASSEMBLY Winter 17, Messukeskus, Helsinki
ASSEMBLY Summer 16, Messukeskus, Helsinki
ASSEMBLY Winter 16, Messukeskus, Helsinki
ASSEMBLY Summer 15, Messukeskus, Helsinki
ASSEMBLY Winter 15, Messukeskus, Helsinki
ASSEMBLY Summer 14, Messukeskus, Helsinki
ASSEMBLY Winter 14, Messukeskus, Helsinki
ASSEMBLY Summer 13, Hartwall Areena, Helsinki
ASSEMBLY Winter 13, Messukeskus, Helsinki
ASSEMBLY Summer 12, Hartwall Areena, Helsinki
ASSEMBLY Winter 12, Helsingin Kaapelitehdas, Helsinki
ASSEMBLY Summer 11, Hartwall Areena, Helsinki
ASSEMBLY Winter 11, Kaapelitehdas, Helsinki
ASSEMBLY Summer 10, Hartwall Areena, Helsinki
ASSEMBLY Winter 10, Kaapelitehdas, Helsinki
ASSEMBLY Summer 09, Hartwall Areena, Helsinki
ASSEMBLY Winter 09, Messu ja Urheilukeskus, Tampere
ASSEMBLY Summer 08, Hartwall Areena, Helsinki
ASSEMBLY Winter 08, Messu ja Urheilukeskus, Tampere
ASSEMBLY Summer 07, Hartwall Areena, Helsinki
ASSEMBLY Winter 07, Pirkkahalli, Tampere
ASSEMBLY 06, Hartwall Areena, Helsinki
ASSEMBLY 05, Hartwall Areena, Helsinki
ASSEMBLY 04, Hartwall Areena, Helsinki
ASSEMBLY 03, Hartwall Areena, Helsinki
ASSEMBLY 02, Hartwall Areena, Helsinki
ASSEMBLY 01, Hartwall Areena, Helsinki
ASSEMBLY 00, Hartwall Areena, Helsinki
ASSEMBLY 99, Hartwall Areena, Helsinki
ASSEMBLY 98, Messukeskus, Helsinki
ASSEMBLY 97, Messukeskus, Helsinki
ASSEMBLY 96, Messukeskus, Helsinki
ASSEMBLY 95, Messukeskus, Helsinki
ASSEMBLY 94, Helsingin Jäähalli, Helsinki
ASSEMBLY 93, Nikkarin yläaste, Kerava
ASSEMBLY 92, Kasavuoren koulukeskus, Kauniainen