We've been making improvements to the food selection of Assembly Winter. New food suppliers will make their appearances at the event in addition to the highly desired food vending machines which will be available 24 hours a day.
Largely popular Dah Boba's bubble tea truck from Assembly Summer 2022 will join us again with their lovely bubbly drinks. Thai restaurant Thai Papaya, known from many other public events, will place their own restaurant in Assembly's food area. Their menu is designed especially for the party visitors! Thai Papaya's menu will offer Thai spiced wings, summer rolls and the best Pad Thai in Finland with vegetarian options among other delicious dishes.
Food and drink in hall 4
All hall 4 restaurants are open within Expo times:
Thu 12-23
 Fri 11-23
Sat 11-23
Sun 11-14
Thai Papaya
Menu:
Spring rolls with sweet chili dip
Thai spiced chicken wings + dip
Loaded fries with pulled pork
Pad Thai with chicken/tofu
All dishes cost 10 €.
Dah Boba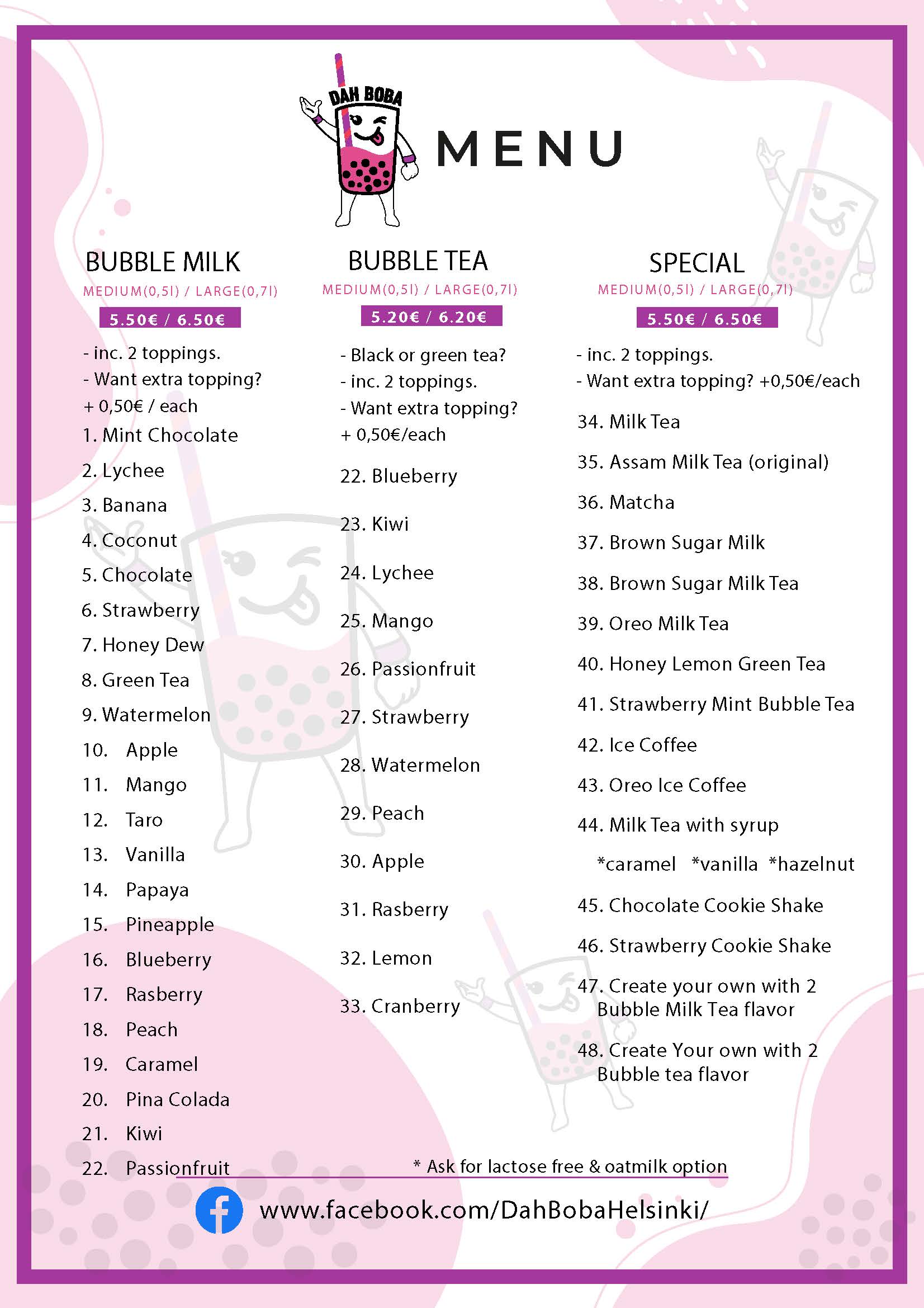 Food and drink in hall 5
Cafe 5
Menu
Tortilla chicken / vege 10,90 €
Burger, fries 11,90 €
Bun, with chicken or vege 9.00 €
Hot dog with two sausages 7.00 €
Feta- and smokesalmond salad 10,90 €
Hours
Thu 12-20
Fri 10-21
Sat 10-21
Sun 10-14
Food vending machines
There are several food vending machines available 24 hours a day in halls 4 and 5.
Selection in vending machines
1 litre of juice (mix or some other option)
Buns (ham/cheese) 5.00 €
Sandwitch 6.00 €
Smoothie froosh (150 ml) 2,50 €
Blueberry porridge 3.00 €
Fruit salad 4.00 €
Sour-cream products 2,80 €
Pizza slice chicken/mozzarella 6.00 €
Spinach-pumpkin lasagne 7.00 €
Meatballs and mashed potatoes 7.00 €
Vegetable noodle salad and teriyaki salmon 7.00 €
Sodas and energy drinks
The restaurants of Messukeskus
Eat & Meet
Offers delicious buffet-lunch and dinner.
Daily lunch time: 11-15 and daily dinner time: 18-20
Hesburger
Hours:
Candy Team  -liquorice sale
Schedule not out yet.
---
Wolt
You can also order food via Wolt. The pick-up point is at door 5.6
Choose the restaurant and the items you want from the menu
When asking for an address, write Messukeskus, Ratapihantie 17 and specify the location to door 5.6
In the comment section of the order, write "Wolt pick-up point, door 5.6"
Pick up the order from the pick-up point!
Wolt offers free deliveries for 14 days for new,  registering customers. If you already have an account, you're not eligible for the offer. Free deliveries from Wolt Market till 28.2. for new customers!